You get more than just a few videos when you purchase a Constant Content Flow Program from Media Blitz Publicity. YOU GET A LOT FOR YOUR MONEY.
WHAT YOU GET
First of all, you get MANY videos. Our programs range from 20, 30, 50, to 100 videos per purchase.
Rather than dumping all of your videos onto YouTube at once (which Google really does not like, and which is usually not the best experience for your viewers), we publish a few of your videos directly to your YouTube Channel on your behalf each month, over the course of several months (or years!). Depending on the program you choose, you can expect 4, 5, or 8 videos to be published to your YouTube Channel EACH MONTH. (We will also send you the video files, in case you wish to upload them to other video platforms or use another video player on your website. In case you did not know, YouTube provides code for embedding your YouTube videos, free of charge… Ask us, or talk to your webmaster to learn more about this embed code)
You also get supporting written content in the form of miniature blog articles. The best practice is to post these blog articles with the corresponding video embedded above it. So, when a new video or group of videos is released, you can publish or schedule for publishing (WordPress allows scheduling posts!) the blog articles highlighting the video content! We send you the word documents with the article copy, which you are free to modify before posting.
We also fill the YouTube Video Description with written content that explains what is in each video. At the top and bottom of each description, we include working links to your website and other links or information you deem to be relevant, such as business address and contact information. We include a Call-To-Action at the end of each video and in the written content, encouraging your target audience to take the desired action, such as making a call or purchase.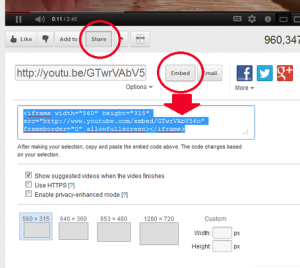 PROGRAM FULFILLMENT TIMELINE
The process goes like this:
You make your initial deposit payment.
We discuss and plan the content that will be included in your videos.
Outlines for each video's content is prepared in cooperation with you.
After sufficient practice by any and all on-camera speakers, the raw video footage is shot over the course of one or two days. (Logistics determined ahead of time)
The video is edited at our studio, in most cases using Adobe Premiere Pro, Adobe AfterEffects, & Adobe Photoshop to create titles, branded graphics, and motion graphic elements in a professional video optimized for YouTube and your target audience.
After coordinating with you and your web team, we publish your videos to your YouTube Channel on a monthly basis and send you the video files, miniature blog articles, and video descriptions – all of the content from your release – in a .zip file so you have the files for use on any other platforms you may seek to use.
We can then begin working on a renewal, as content marketing and online video are best used as an ongoing program.
HOW PAYMENT WORKS
You pay an initial deposit, after which we will begin preparing your video content plan and video shoot.
A month or less after the initial deposit, you will pay for the remainder of the program. In some cases, we may negotiate an installment plan for payments. However, the cheapest approach is to pay the remainder in a lump sum.
Ready to get started? Make your initial deposit below, or contact us to discuss the next steps toward implementing video content marketing with a Constant Content Flow Program from Media Blitz Publicity!
20 Video Professional (Law/Medical/Business)
Constant Content Flow Program
$1500 Deposit
Followed by 1 payment of $6000 or 4 payments of $1600

Click the button below to make your Deposit
50 Video Professional (Law/Medical/Business)
Constant Content Flow Program
$3000 Deposit
Followed by 1 payment of $12000 or 4 payments of $3250

Click the button below to make your Deposit
Contact us if you have questions or wish to clarify your order! Many services are a la carte, whereas others are billed with a base payment + hourly or monthly payments. Please specify the details of your projects in the email, and include your phone # if you prefer. Thank you!