Podcast: Play in new window | Download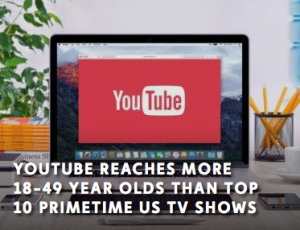 http://www.reelseo.com/youtube-reaches-bigger-audience-than-us-tv/
More people ages 18-49 are watching YouTube than the 10 most popular Prime Time TV Shows in the United States.
This makes sense – Wouldn't you rather watch what you are looking for than whatever garbage the TV companies have queued up for the masses? The only reasons you wouldn't watch it on YouTube is if there is a specific show that is only offered at a specific time on television, but this type of strategic scarcity as a means to hook people may not work forever… The majority are already moving to the internet first.
Some of us already saw YouTube as a good replacement for television as early as 2005 – we watch what we want on demand, whenever we want, whether it is on YouTube, DVD, or… VHS. You can often catch your favorite new shows the next day on a streaming site, anyway.
As for advertisement reach, it seems Youtube ads are already over 50% higher, but ads may be going away soon, as well… People are tired of them, and content marketing and sponsorship will ultimately consume advertisement.